Three Stories of Heartwarming Courage and Christmas Romance During World War II
~*Cookie Recipes in the Back!*~

Prologue ~ Sarah Sundin ~ Winter Wonderland
December, 1941. Louise Turner is up in the night anyway. Why not begin Christmas decorating? Helping herself to an early Christmas cheering, Louise stands on a chair to place lights and greenery ~ until her grandson, Pete, catches her. Reminiscing of wars, rationing, and now this generation's part, our story begins.



Cara Putman ~ White Christmas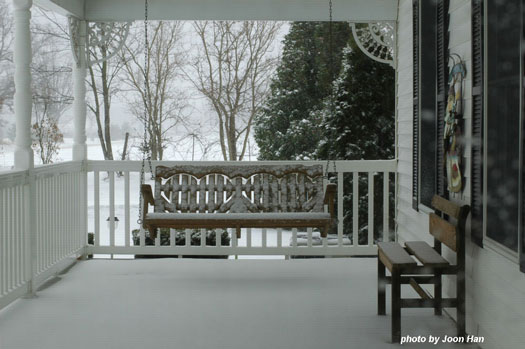 December, 1942. Readying candy canes and puzzles for the children spending Christmas in the hospital brings more than expected. Abigail Turner, making candy above Glatz's soda fountain and confections store, and Jackson Lucas cutting out toy kits at the puzzle factory merge their talents. A Christmas that will be unforgotten.
Jackson rescues Abigail as she is attempting to cross the street to catch the approaching bus by her college campus for her shift at Glatz Candies. Jackson is on his way to his boardinghouse after his factory shift. Noticing he is troubled about something, Abigail mentions it but he "is fine." Dropping a small book from her bag, she hurries off the bus. Jackson retrieves it and sees that it is her calendar with the time noted at Glatz's. Returning her much needed schedule, Abigail invites him to her family's home for dinner and consult with her attorney father upon seeing Jackson reading a legal document.
I liked this warm story and the Turner family as they welcome Jackson and seek to help him solve the dilemma surrounding his mother and sisters at their family farm. He has come to the city to earn money to support them after the death of their father.
My favorite character is Abigail's Grandma, outspoken in her wise observations. In 1942 Lafayette, Indiana, this Christmas is missing siblings, Pete, training as a fighter pilot, and Merry, finishing up nursing school in Florida.
Sarah Sundin ~ I'll Be Home for Christmas
December, 1943. Pete Turner is home on leave, returning to a new post in January. This couldn't be the little girl he had teased? Grace Kessler and her little girl, Linda ~ Linnie ~, fulfill a longing in his heart. But... can Grace believe her brother's friend, Pete, could turn into a charming, lovely dream? Learning to trust has become very deep for Grace. Will it all be taken away in a moment... again? While on leave, Pete entertains Linnie, taking her to fun places and getting her wiggles out at the river all before settling down for homework. Grace's job goes smoother knowing Linnie is cared for so lovingly. Invited for Christmas Eve gift opening, the Turners bring ~*Home*~ to them. That is, until Pete speaks of his return in January to fly crafts again ~ she was so sure she understood he would have a desk job. With this love placed in her heart by God, will she ultimately be able to trust in His care, not allowing fear and anger to rule? Walking alongside each other, His love overfills to spill out on others from the God-sized hole in us only He can fill. Giving, receiving so much more in return.
Trisha Goyer ~ Have Yourself a Merry Little Christmas
December, 1944, Field Hospital, the Netherlands. Meredith ~Merry~ Turner
Sometimes where one's from isn't as important as understanding one's heart...
She hummed "White Christmas," imagining Bing Crosby's rich baritone. From the way the patient glared at her, she knew this soldier was also German, but one would never know by looking at him. With their bloody, torn uniforms cast aside, the men appeared the same. They bled the same. They needed the same care. Yet it was the deceit of the heart that made the difference. Where one placed his allegiance.
--Have Yourself a Merry Little Christmas, 241, 243
Meredith knew of deceit. David. Returning to his home country, taking her heart with him ~ betraying her and her country. How could someone she thought she knew so well leave her without a word? His memory traveled with her from nurses training in Miami Beach to her first postings with her troop in France, Belgium, and now the field hospital in the Netherlands. Soon, she had heard, they would be leaving for Germany. So close to the lines, hoping they will stay during Christmas with memories of home on her birthday. Especially, with letters from her brother, Pete, and her sister, Abigail, arriving with visions of Daddy, and Grandma and Mama singing and scurrying in the kitchen. Cookies smells wafting through the air! A surprise comes to her as the hospital setting becomes Christmas with a tree, special piano music to sing by, and remembrances just for Merry. Home in the heart and forgiveness as truth brings joy to last beyond Christmas.
Epilogue ~ Cara Putman ~
Let It Snow, Let It Snow
Christmas Day, 1945. Louise Turner awaits the soon return of her granddaughter, Merry, as the long war on both fronts has truly ended. Today, her grandchildren Pete and Abigail and their families would be coming for dinner. What joy to be at their parents' home all together for this blessed day. The doorbell rings and... Merry is home, bringing a celebration, indeed.
But... this isn't the end. It a glorious beginning and continuance of love and life amid those at home!
Beautiful stories are shared of the Turner family during turbulent times. Key was their correspondence with their loved ones overseas, with news from home. Strength develops as they trust God and seek Him in their daily cares.
***Thank you to Litfuse Publicity Group for inviting me to be part of the blog tour for
Where Treetops Glisten
by Cara Putnam, Sarah Sundin, and Tricia Goyer. This review was written in my own words. No other compensation was received.***