A good all around quilting book to have handy with nice clear color photos and instructions.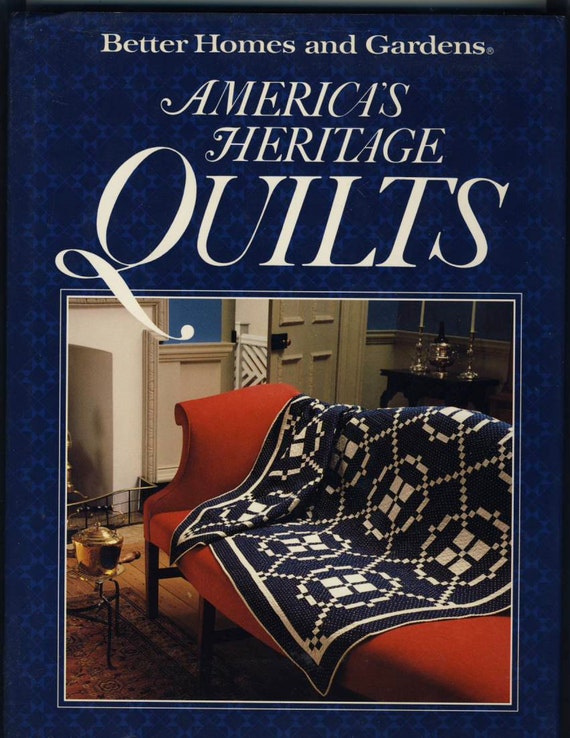 Better Homes and Gardens
®
America's Heritage Quilts
©1991, ISBN 0696019051 Hardcover (also in paperback)
320 pages including glossary and index
I saw this book while doing inventory at our community library and wanted a copy of my own. Good instructions are given on "how to use this book" giving the labeling of quilt patterns as to basic or challenging with those in-between unlabeled. There are instructions for strip piecing, nine-patch variation, Irish chain, appliqué, crazy-quilts, classic log cabin sets including courthouse steps, to name a few, covering quilt patterns from 1800-1991.
"We've assembled a collection of 70 quilts that exemplify the styles and techniques of quiltmaking throughout America's history." --Patricia Wilens, editor
As a historical fiction genre reader, and with a TBU ~*to-be-used*~ 100% cotton fabric yardage and scrap collection for quilting, I was drawn to this book.
Quote from Beth Gutcheon: "No matter how simple or traditional a pattern, the effect of a quilt is still absolutely original because no two people handle fabric and color the same way."
A "Quilter's Schoolhouse" section in the back goes over general instructions for quiltmaking. I found quite useful the section on "set variations" with and without sashing, setting blocks straight or diagonal, using a Sawtooth Star block in the illustrations. Since I love ***s, this was interesting to me, and a section on borders.
The patterns have the finished quilt size, materials needed, instructions for cutting the fabrics, diagrams and piecing how-to for assembling the blocks and quilt top, adding the borders, quilting and finishing, and binding.