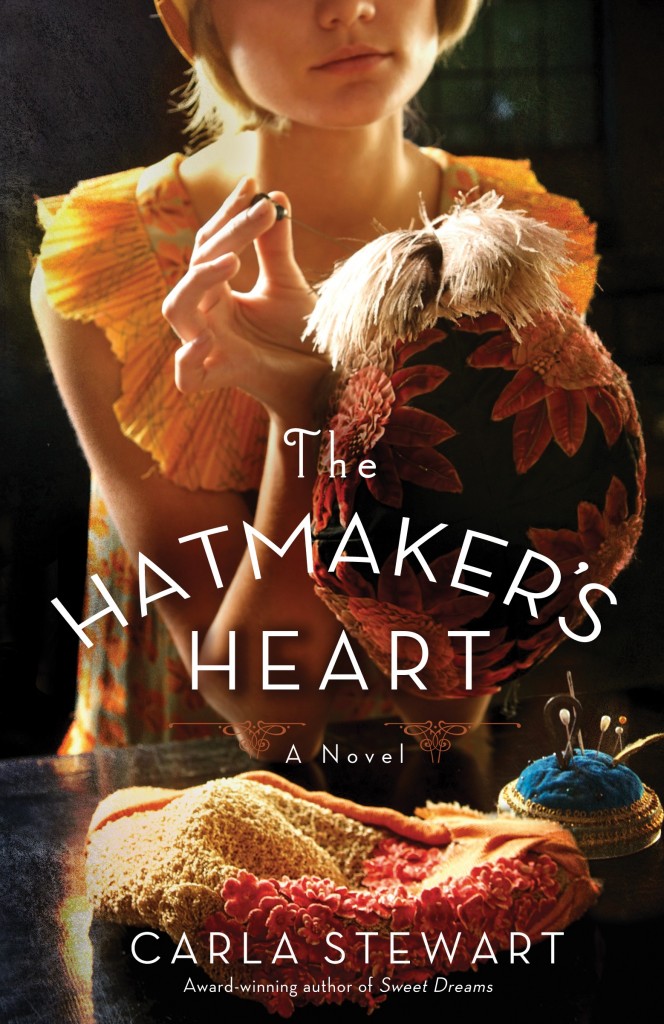 Millinery by Jane Loewen, 1920s hat designer and teacher
Following the death of her beloved grandfather, the Earl of Marchwold, Prunella Marchwold, her mother, Evangeline, and baby sister, Caroline, board a ship at Liverpool, leaving all former things behind. Or so it seemed at the time. Nell has moved to New York, leaving them in Kentucky where her talent for hat making designs was discovered by a Millinery House ~ Oscar Fields, quite prominent and up-and-coming she is advised.
Nell is singled out by Mrs. Mavis Benchley, a society maven, desiring creations for her two daughters to go with their Soren Michaels designer dresses. The event is written up on the society page and the dress designer comes to call to bring sketches he would like Nell to add the finishing touch to complement his gown collection for the Stottlemeir Club runway showing.
Holding on tightly to his blossoming design apprentice, her employer refuses to give "Nellie March" her own label, keeping her work collaboratively under Oscar Fields Millinery.
Inner Beauty. Nell's designs not only match the fabrics and colors chosen, but are meant to draw out the beauty of the wearer with their finest features accented. Nell's own beauty outshines the speech impediment her employer wishes her to leave behind. Mrs. Benchley has given Nell the name of a speech therapist and his receptionist carries the speech of Nell's homeland, England.
A catch came in Nell's throat. The Yorkshire rhythm in the assistant's voice was unmistakable, a warm sensation like a glimpse of home after a long journey. "A cup of tea would be lovely. With milk p-please."
--The Hatmaker's Heart, 24
With publicity within a well-circulated fashion magazine, Nell's name and origin of country is mentioned, opening a further door for her.
I thoroughly enjoyed this novel of freshness and certainty of art that Nell possesses. She is indeed refreshing and honorable in her originality and character. She outshines others with her captivating draw that seeks to bring the best feature forward for her clients.
In a highly competitive market and image, serving society to wed their daughters to a favorable match, by being herself, Nell possesses the quality that reflects a sampler her grandmother made for her.
Strength and honor are her clothing.
--Proverbs 31:25
In the Roaring Twenties with changes and uncertainties, Nell maintains her belief reflected in her honesty and caring of others.
author Carla Stewart
Carla Stewart ~ The Hatmaker's Heart
For Nell Marchwold, an apprentice hatmaker, bliss is seeing the transformation when someone gets a glimpse in the mirror while wearing one of her creations and feels beautiful. When love is rekindled with her childhood sweetheart, her heart is torn. She must decide what she is willing to sacrifice for her dream, and what her dream truly is.
CS: I've long wanted to write a novel with a British setting and/or explore the Roaring Twenties. With the popularity of
Downton Abbey
, the time seemed right. While brainstorming with my agent, she whispered two words: Kentucky Derby. While known for its famous race, it's also the crème-de-la-crème of fabulous hats. I knew at once my character would be a hatmaker so that was the jumping-off point. Giving her a noble British heritage and being discovered by a New York milliner at the Kentucky Derby gave wings to the rest of the story. Weaving the plot was an absolute caper!
Discover more at carlastewart.com
*** Thank you to Hatchette Book Group FaithWords for sending me a copy of
Hatmaker's Heart
by Carla Stewart. This review was written in my own words. No other compensation was received.***
Carla Stewart's
The Hatmaker's Heart
~*~