Little known fact about Sherry Gore:
"I had a chicken named Henrietta who liked to sit on my shoulder when I was cooking."
That's what I would call "fresh eggs" in the kitchen!
A side note: I absolutely love Lydia Dabcovich's drawings in her children's book, Mrs. Huggins and Her Hen Hannah. Loved reading this book outloud!
I have a copy of Sherry's first cookbook,
Taste of Pinecraft: Glimpses of Sarasota, Florida's Amish Culture and Kitchens
and the premiere first year issues of
Cooking & Such
magazine. I was excited when I was invited by the publisher to receive
Simply Delicious Amish Cooking: Recipes and Stories from the Amish of Sarasota, Florida
, a combination of new recipes and portions from that original collection, and gladly awaited its arrival. This title is also available as a Zondervan ebook. Visit zondervan.com/ebooks.
Complete with lay-flat binding, and photos throughout, Sherry's collection and tips, and special notes are heart-warming and a little bit of pie-heaven! Tasty recipes easy to prepare and serve our family and do-drop-in friends. Here's one, "Shepherd's Pie" reminiscent of my cousin's Irish cooking, and my year venture to the East Coast and introduction to Clam Chowder, there is a recipe from a tearoom from a farm near Cape Cod, and another for Seafood Chowder; Instead of Frying Fish ~ a 15-minute bake recipe for my favorite Walleye! My husband and I mainly eat chicken and fish, so we will enjoy these recipes. There is one for Alligator Stew ~ I was introduced to this appetizer delicacy by my friend living near Houston. It tasted similar to chicken to me. Here you go: Sherry's Recipe for Homemade Egg Noodles; Fried Chicken; Creamy Chicken Gravy; Chicken and Dumplings. A fried chicken tip:
If a crisp crust is desired, cover pan for the first half of cooking period, then uncover. If a tender crust is desired, brown pieces with pan uncovered and then remove them to rack in roasting pan. Cover and bake 1 hour.
There is a wonderful Index of Recipes in the back to salivate over, but not ruin your book, I hope. How to make soft pretzels and saltwater taffy, salad dressings, doughnuts ~ a variety of soups, salads, main dishes, and... desserts.
I like the notes throughout; various clippings from
The Budget
newspaper; Sherry's gleanings, always offered with love:
These recipes, like the Amish themselves, are straightforward and plain, but never boring. That is why this book is called Simply Delicious Amish Cooking.
"I don't know what I'm supposed to say," I finally admit.




"It's ok," they say, "just start cooking and tells us some stories about where you live."




Luckily, Pinecraft is one thing I do know how to talk about. And whoopie pies are a dessert I've probably made hundreds of times; even sold them at farmer's markets at one point. And so as soon as I get that spoon in my hand I am off. I forget about that camera. I forget that I'm by myself. I'm just Sherry Gore talking about her home while making a tasty treat. How can that go wrong?




Pretty soon, voila! There are the whoopie pies.

--Sherry Gore, author ~*~ blog.zondervan.com/blog/behind-the-scenes-of-an-amish-cooking-video-shoot/
First Cooking Video–Whoopie Pies!
Whoopie Pies, Featured in Simply Delicious Amish Cooking - Sherry Gore
Recipe: Chocolate Whoopie Pies
1½ cups shortening
3 cups sugar
3 egg yolks, beaten
3 teaspoons vanilla
1½ cups buttermilk
(or sour milk)
3 teaspoons baking soda
2 teaspoons salt
1½ cups hot water
1½ cups cocoa
6 cups flour
Preheat oven at 350˚. Cream together shortening and sugar. Add egg
yolks and vanilla. Stir in buttermilk. Add baking soda, salt, hot water,
cocoa, and flour. Beat well. Drop by table spoon onto greased cookie sheet
and bake 12 minutes. Makes approximately 40 whoopie pies.
--Sherry Gore, Pinecraft, Florida
Filling
1½ cups white shortening
(not butter flavored)
5 tablespoons milk
3 cups powdered sugar
3 teaspoons vanilla
3 egg whites, beaten stiff
Cream shortening and milk. Add powdered sugar and vanilla; mix well.
Beat in egg whites until filling is fluffy.
To assemble pies, spread a heaping spoonful of filling on flat side of
half the cookies. Top with remaining cookies.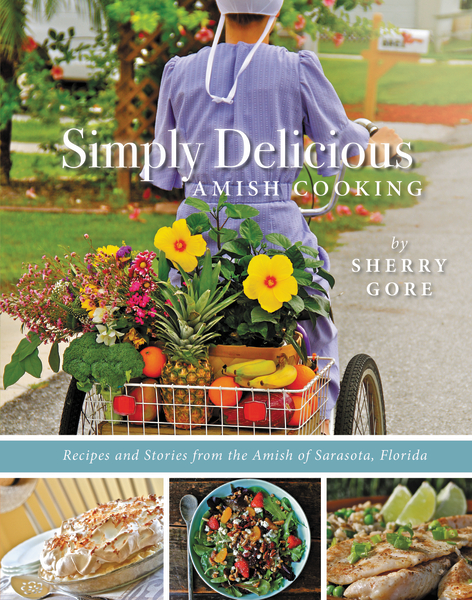 Simply Delicious Amish Cooking
Recipes and stories from the Amish of Sarasota, Florida
Simply Delicious Amish Cooking
by Sherry Gore provides a glimpse inside Florida's only Amish community. Through hundreds of easy-to-prepare recipes, 16 full-color photographs, black-and-white photographs, and stories throughout, it shows how the Plain People in Pinecraft cast aside black stockings and sensible shoes for flip-flops and Coppertone. Sherry Gore, author of
Simply Delicious Amish Cooking
, is the editor-in-chief of
Cooking & Such
magazine. She is also a weekly scribe for the national edition of the 120-year-old Amish newspaper,
The Budget
. Sherry is a year-round resident of Sarasota, Florida, has three children, and is a member of a Beachy Amish Mennonite church. An additional place to enjoy Sherry Gore! sherrygorebooks.com/blog/
***Thank you to Zondervan
Linked to Lit
for sending me a copy of Sherry Gore's newest cookbook. No other compensation was received. (Not even advice on how to walk off the delicious fare!)***