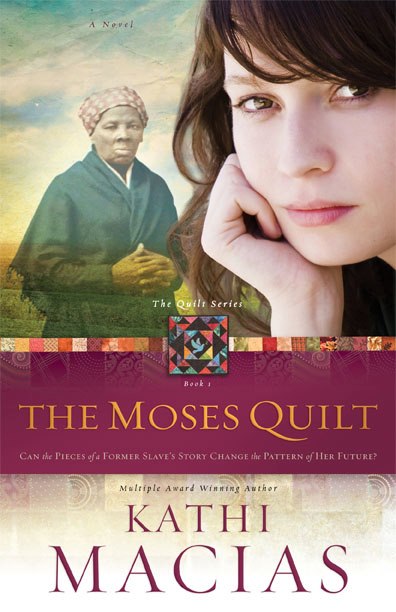 The Quilt Series, Book 1:
The Moses Quilt
Can the pieces of a former slave's story change the pattern of her future?
As Mazie Hartford sat down on the edge of the bed, carefully laying the folded quilt between herself and her great-grandmother, Mimi, the young woman sensed that she was about to embark on a journey that could change the entire course of her life....
And from the pages of history, Harriet Tubman would have just the answer she needed.
The Quilt Series trilogy
I was surprised to see my blog quilt background magnified by this video ~*~
Having read about Harriet Tubman and her unwavering determination and fortitude,
The Moses Quilt
drew me with my interest in the Underground Railroad. As a quilter, I am hoping to discover the story in the quilt! I also wonder what will become of Mazie and Edward's interest in each other.
Still, how could she give him an answer when she was so unsure about how the unknowns of her past might impact their future?
--The Moses Quilt Prologue, page 8
Something is holding Mazie back from making a commitment; keeping her from going forward in her life. As her great-grandmother, Mimi, is slowly ebbing away, she chooses to share her Bee's Bend quilt with Mazie and tell her the story stitched within the patchwork squares. Each told a part of Harriet Tubman's life ~ the Moses quilt, as she led her people to freedom following the North Star.
Kathi Macias, Author
Give us counsel, render a decision. Make your shadow like night--at high noon. Hide the fugitives, do not betray the refugees.
--Isaiah 16:3
With the telling, as Edward, and then Mazie's mother, Lilly, join them, will change come individually?
Dark and thorny is the path
Where the pilgrim makes his way;
But beyond this vale of sorrow
Lie the fields of endless days.
--Harriet Tubman
Following his work days, Edward now brings frequent take-out meals to contribute to Mazie's care of Mimi. They settle in for Mimi's bedtime continued story of Harriet Tubman intermingling into their lives. I, too, pulled up a chair. So much further than anything I have read about Harriet Tubman. Such wonderful research. Historical fiction is my very favorite genre. We learn from the past as we apply it to our now. Such tenacity and faith in God.
The heavens declare the glory of God; the skies proclaim the work of his hands.
--Psalm 19:1
As Harriet traveled at night, there were decisions with sights and sounds to be followed. One comment was about feeling for the moss on the North side of a tree when the sky was overcast. She had complete dependence on God. Supporters helped along the way, monetarily and as safe houses. I have always found the Underground Railroad intriguing. I have visited two stations in the North and they were very interesting. One was a stagecoach stop. The noise above in the dining room masked the scurry below in a hidden room. There was a dirt-dug pathway underground that led to a trapdoor in a small cabin floor. With activity about, a rug over the trapdoor beneath table and chairs in place with tin plates and food, ready for any intrusion or detection. The other location was a mansion with narrow cement slabs along the walls in the basement. A lantern shone over a stained-glass window signaling a color illuminated. How brilliant to move within the busyness undetected. Other interesting aspects unearthed about Harriet ~*~ being a home-owner, others prominent in history supportive of her, and her huge part in the Civil War between the North and the South.
Kathi Macias is a multi-award winning writer who has authored nearly 40 books and ghostwritten several others. A former newspaper columnist and string reporter, Kathi has taught creative and business writing in various venues and has been a guest on many radio and television programs. Kathi is a popular speaker at churches, women's clubs and retreats, and writers' conferences. She won the prestigious 2008 member of the year award from AWSA (Advanced Writers and Speakers Association) at the annual Golden Scrolls award banquet. Kathi "Easy Writer" Macias lives in Homeland, CA, with her husband, Al.
For more opportunities for free copies of THE MOSES QUILT by Kathi Macias, please follow this book tour on Facebook at: http://www.facebook.com/CSSVBT.KathiMacias. This blog host was given a complimentary copy of this book from the author in exchange for posting the book review on this blog. CSS Virtual Book Tours are managed by Christian Speakers Services (http://ChristianSpeakersServices.com).