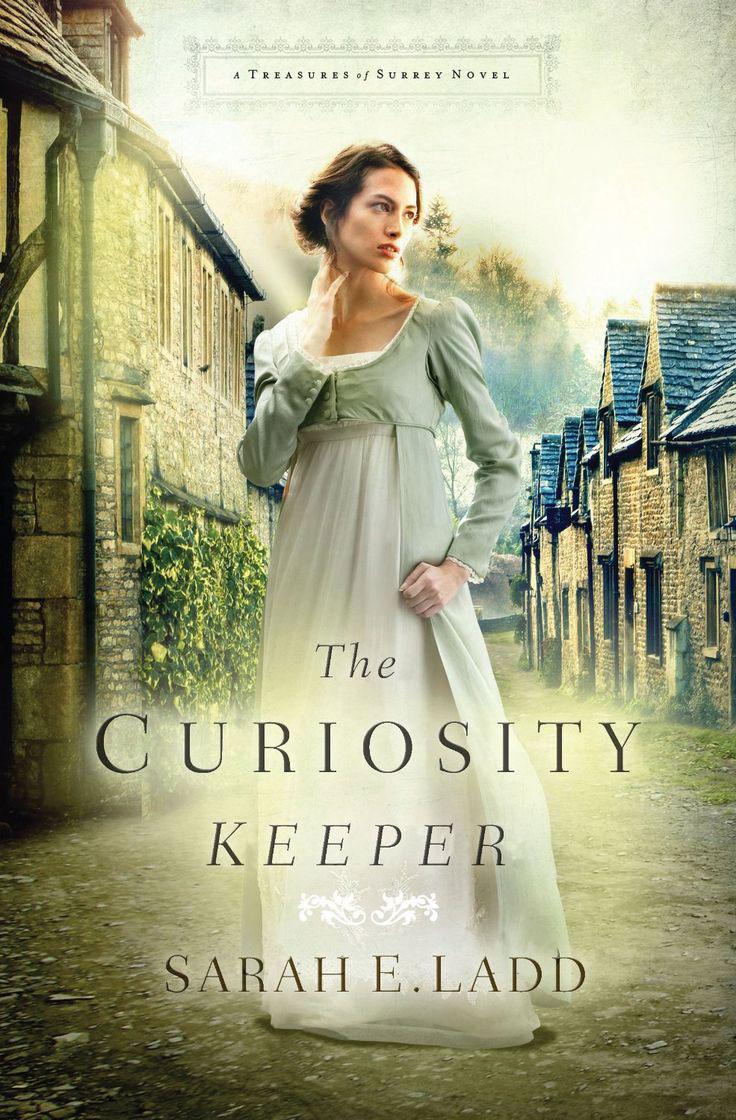 Summary: "Born into two different classes, James and Camille shouldn't even know each other. But when the pursuit of a missing ruby brings them together, much more than a mere acquaintance is ignited. The daughter of a curiosity shop owner, Camille would never be considered a lady. Nor does she want to be. With a fiery personality, she dreams of adventures far beyond the walls of her family's modest business. But when her father thrusts a mysterious box into her hands and disappears, her whole world -- dreams and all -- shifts. James is an apothecary, tending to the health needs of the town of Bentworth. His father, a well-known explorer and collector, is quite wealthy from the spoils of his adventures until one risky gamble and a stolen gem leave him on the edge of ruin. Seeking his father's approval, James picks up the hunt for the stolen ruby, leading him to the door of Camille's curiosity shop. With both of their lives in danger as the ruby remains at large, James squires Camille away to the Bentworth School, believing that would be the last place her pursuers would look for her. They both find their hearts and dreams heading in a new direction, but before they are free to embrace their future they must solve the mystery looming around them. The more they uncover, however, the harder it becomes to know whom to trust. And they begin to realize that recovering the ruby may require a great sacrifice: their newfound love and maybe even their lives."-- Provided by publisher.
A treasures of Surrey novel; book 1 ~ England, 1812
What an amazing story ~ not so much because of the intertwining of greed, but of lives developing into relationship beyond stations in life. Their hearts matter and definitely what you believe matters. Jonathan Gilchrist finds this out as his aspirations are challenged. He is an apothecary and is attempting to keep a contagious disease from spreading throughout the school and into the village. On top of that, his father sends him on a venture to a trusted confident, or so it is thought.
The tears blurred everything before her into a misty mess of browns and grays. She peered through them at a group of young girls playing by a back stoop and then a cluster of women chatting with baskets over their arms and mopcaps on their heads.




Slowly reality dawned.




After a lifetime of living in one place, surrounded by the same people, she should have somewhere to go.




But there was no one for her to turn to.




Like it or not, her life was defined by the hours spent in the shop, her social connections limited to her patrons and the occasional merchant.


--The Curiosity Keeper, 94-95
Camille Iverness has lived above the curiosity shop since her mother deserted them years before. But not all is as it seems. One's perspective can be shifted by unsuspected events from those believed least likely to expose them. Such strong character brought about by daily serving, Camille does the next thing, setting out to do good. Within the framework of an institution likely not known for change, she is given an opportunity to bring her skills and assertiveness to aid those in her care. Before her classes fully begin, she is reassigned to a greater task bringing relief beyond what she even knew she was capable of assisting.
The exclusion of his remaining son was glaring. "And Mr. Jonathan Gilchrist? Is he interested in such things?




"Bah." The father's expression had hardened at the mention of his younger son. He straightened his chair. "Jonathan has never shown interest in anything much beyond his bottles and jars and life in the village. Hard to believe he's my son, what with how different he is."


--Ibid., 157
As Camille and Jonathan's lives intersect, hidden art comes to the surface as they examine who they truly are and what is value beyond price. Their very lives and future do not depend on what is sought but on what is kept alive by hope. Intriguing how they find this out and... the mystery of the exploring.
She did not know what had compelled her to speak so openly. But there was something about him that made her want to share her heart. To tell him everything.


--Ibid., 265
This story weaves between those in search of the ruby and the intent of their heart, and extricating yourself from the expectations and demands placed on this lost "jewel." The intricate ending brings to the surface true life in its purest form beneath the unpolished surface.
Sarah Ladd's stories are rich in detail and unassuming in outcome. You can't be sure it is going to end like you think, or desire it so. For those who have read her previous books, you will be delighted to venture again with her characters. For new readers, you are in for a treat! Excellent intrigue and interaction, the thread of mastery is woven throughout. Point A to Point B is not simple and has twists and turns between suspense. You'll be glad you trod the open road with them.
Sarah E. Ladd received the 2011 Genesis Award in historical romance for
The Heiress of Winterwood.
She is a graduate of Ball State University and has more than ten years of marketing experience. Sarah lives in Indiana with her amazing husband, sweet daughter, and spunky Golden Retriever. Facebook:
SarahLaddAuthor
Twitter:
@SarahLaddAuthor
***Thank you to BookLook Bloggers for this review copy of Sarah E. Ladd's
The Curiosity Keeper
. This review was written in my own words. No other compensation was received.***
BookLook Bloggers