The Amish Heirloom Series, Book 1
Veronica Fisher has a lot of hobbies and proficiencies ~ skipping stones, and a new-found favorite
~ a raspberry pie recipe from previous generations, saved in an heirloom trunk. There is another recipe that you will find will open a lot of doors with a sweet savor. Discover it as you enjoy Amy Clipston's An Amish Heirloom Novel.
I enjoyed getting to meet the protagonists, Veronica Fisher and Jason Huyard and their families. I especially liked that they confided in their elders for advise, and among their siblings. How refreshing to have the openness to be heard and to hear. Their exchanges were greeted with listening thoroughly and the confidence of a reply beneficial to them from experience and godly wisdom.
Pies, jams, relish, and pickles are favorites at Veronica's roadside bake stand. The peach salsa they eat up at the house sounds yummy too. Jason and his
bruder
, Stephen, go to buy pies for their
mamm
. Unknown to Jason, this is the home of the Veronica he had been searching for, the fiancée of his best friend, Seth Lapp, who recently died in an accident on their job. Seth had spoken of Veronica so often, Jason felt as if he knew her. Seeing her the night at Lapp's, he wanted to find her to offer his condolences and felt responsibility for Seth.
As they come across each other at gatherings, Jason is drawn to Veronica and finds it difficult to talk to her about Seth, not wanting to add to her sorrow. As time spans on, it becomes increasingly harder for fear of losing her friendship because he hadn't told her from the beginning that he had known Seth.
Excellent introduction of everyone, very fluidly as if we are walking alongside them. I wanted to tell Jason, "Just tell her." Difficult to do when you want to be known for yourself and the time has passed and you didn't say.
I look forward to the next book in this series.
***Thank you to author Amy Clipston for sending me a print copy of
The Forgotten Recipe
for review. This review was written in my own words. No other compensation was received.***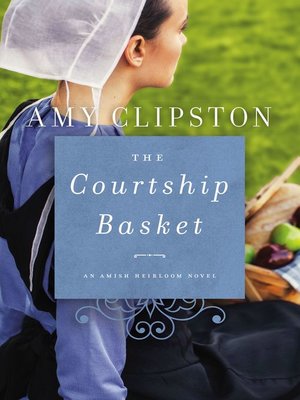 Watch for Book 2 in The Amish Heirloom Series releasing in July 2016 and available for pre-order on March 30, 2016 ~
The Courtship Basket